The church of St Peter Balsall Common: seeking to be an Inclusive and Accessible church for All.
For the list of services and activities in the next week - Click Here -
All our main Sunday services are normally available online ... choose from the most recent! www.spcbalsall.church/service/
The links on the home page (in blue, above, if you are viewing on your phone; otherwise, on the left side of the screen), will take you to other information including all of our activities and regular services (All welcome!)
NB The email address for the Vicar has changed: for *all* correspondence relating to the church or the Vicar, please contact spcbalsall@gmail.com or telephone 01676 532389
It's best if you keep an eye on the Facebook and Twitter (aka X) social media @spcbalsall postings just in case anything has to change …. and yes, we have Instagram, Mastodon and a Threads page too! If anyone ever visits them - as we have had *no* interaction from either, we've stopped bothering to post until we are asked to again.
To see what activities we offer, through the week, go to our Events links page.
There *will* continue to be a 'Warm Welcome" open on Thursday afternoon 2:00-4:00pm to drop in, chat or have a cuppa, and stay warm in the church lounge…
We are restarting our regular 'Conversation Club' event on Saturday mornings for our Ukrainian Guests and are grateful to Heart of England Community Foundation, Church Urban Fund & the Benefact Trust for supporting this. These happen between 10:00-12:00 and all are welcome - free! Meets every fortnight - next sessions 2nd & 16th December 2023.
The Bereavement Journey: Working through grief and the loss of a loved one takes a long time. We offer a *free* course to help any person who has lost a loved one, whether recently or dating back several years - if you are interested, or just want to know more, please contact Moira or Mark on (01676) 532389 or email spcbalsall@gmail.com
| | |
| --- | --- |
| | For other contacts, look at our 'Contact Us' page, or email us on spcbalsall@gmail.com |
NB the church is now open during daylight through the week (most days!) for you to pop in for a moment of peace and quiet, to say a prayer or light a candle, and remember loved ones. We also welcome you to use the benches in our gardens for relaxation.
We know that people cannot always get to church or don't have cash with them, so we have installed a "contactless" donation point in church as well as on this website. If you want to give thanks or support our work 'online', (as we are growing our 'virtual' congregation!) you can also donate by Clicking on this link - have your card handy! And if you want to leave a message with your gift, there is a button to add your own explanation or reference.
As we continue to be aware of the issue of Climate Change, please pray with the people of the South Pacific, this prayer from Melanesia - O God of land, sea and sky hear the cry of your people, for homes and livelihoods destroyed by rising seas and warming earth; caused by ignorance, apathy and selfish greed. Inspire all people of goodwill to work for change of hearts and minds, so that loving respect and valuing all creation may increase awareness of the wonderful gift of the world and its life. We pray that you will enable us to overcome all that destroys and pollutes and build a world where all life is sacred, and the earth enriched for all its inhabitants and those yet to be born. In the name of the one who promised life in all its fullness through sacrificial love, Jesus Christ our Lord. Amen
@@@@@@@@@@@@@@
We continue to stand with our friends and neighbours in the less-advantaged world, and are supporting the efforts being made by organisations, foodbanks and churches to help people fleeing Afghanistan and others who are homeless or destitute. We are also working to support refugees from Ukraine, and would welcome your offers of help to join our team.
We, along with other churches and organisations, are collecting items that are needed – there is a collecting point at the back of church.
Items needed include, in addition to foodstuffs; Baby wipes, nappies, new underwear, clothing, shoes, soap, toothpaste, combs and brushes.
For more information please email spcbalsall@gmail.com -
Thank you.
To watch a short video about the issues of Global Climate Change, and what Christian Aid is doing,
'Watch this space' for updates.
If you wish to use the Hall, Baptistry or Church for any event except Sunday services, please contact Christine Hornsby on 07974 140353 or stphall@btconnect.com and your date and time can then be booked onto the calendar, hopefully saving crossed lines and any mix up with bookings!
Please see our 'Contact Us' and 'Social Media' pages, and email or phone us, if you need pastoral or spiritual support and we'll do what we can. If you want to get our weekly newsletter, please drop us an e-mail. Just keep watching these pages and following our social media - www.twitter.com/spcbalsall or www.facebook.com/spcbalsall ...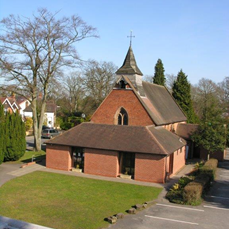 This is the homepage for the church of St Peter Balsall Common. We believe we are a friendly, inclusive neighbourhood church with services, faith & social events for all ages & life-stages.
In these pages we set out our values and activities, tell people who we are and what we are about, and invite you to join in. You can click on the boxes at the bottom of the page for 'newsletters' and forthcoming events. Where there is different colour text, or sometimes underlined text we provide 'hot links' that go directly to the information.
More information at http://www.Facebook.com/SPCBalsall where you will find updates about sudden and unexpected changes of plan, as well as reminder of regular and special events and regular updates also appear on www.twitter.com/spcbalsall . We have 'moved online' and no longer publish a monthly printed magazine, but can supply a hard (printed) copy of the weekly newsletter, if asked.
St Peter's stands on the south-west edge of the growing 'village' of Balsall Common, but aspires to be at the heart of the community and to bring the message of Christ to all who live nearby. We have social activities for all ages, including 'mothers and toddlers', older people, and young people. We extend a welcome to all who want to learn more about our faith, or to join our activity. You may already have come to one of our social events, or have had a visit one Saturday in our 'Say One for Me' programme - but if you have not and don't know us, we'd love to meet you!
Our church has tried to be accessible to everyone. We have a level floor (no steps!), comfortable chairs, a modern audiovisual and livestream system and acoustic loop (and wifi!) and a bright interior! As far as possible, we seek to be Inclusive, Dementia friendly and Aware of autism (neurodiversity).
We hope our services combine a warm welcome and an informal feel with proper reverence and worship and activities for Youth & Children. With the local Methodist Church, we also provide outreach services at the Harper Fields Care Home, on Friday mornings. We do not believe that 'church' is only for Sunday, so have lots of things for different age groups on a variety of weekdays as well.
Please feel free to visit our church and become part of all this, too!
NB: Safeguarding.
We take issues of child protection (and the protection of vulnerable adults) very seriously. If you have a concern, you can find our policies and contact details here.
Registered Charity in UK: # 1184291