Where are we now?
We are proud to say that we have achieved the 'Silver' award level of the A'Rocha scheme. We intend to build on this and achieve Gold by recycling more, encouraging our church members and other churches to follow environmentally sensitive policies, and looking after our site (the churchyard) to promote ecological diversity and the wellbeing of the natural world. As part of this, we are thrilled to say that we were able to host the YCCN pilgrimage to the Glasgow Climate Summit last year!
Greening our church grounds
Not only have we planted a wildflower area (see below) but we are developing our Memorial Garden as a place for people to relax and refresh - and we have installed waterbutts to facilitate watering the plantings and the planters around the church.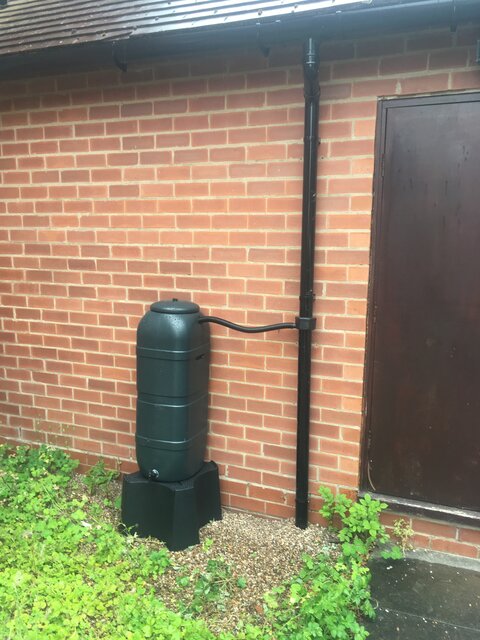 Recycling
We have "recycling" boxes in the entrance to the Church and Hall where you can leave old mobile phones, stamps, spectacles and printer cartridges! These can often be sold to raise funds for the needy or passed to charities who can use them. We also can help with the recycling of many other things - contact us if you would like to help our Recycling efforts as we do need a new Coordinator!
We can also rehome Ladies bras (they go to a cancer charity) or if not usable get recycled for the charity
We used to be able to rehome all the following items, but our existing destination can no longer accept them, so please let us know if you could help with any of these?

Cat and dog food pouches washed and dried, facial wipes empty packets
Pens, hi lighters, felt tips
Toothbrushes, toothpaste tubes (or any medication tubes minus as much of the product out as possible)
Any plastic tops (table sauces washing machine liquid, milk, pop) Ring pulls, Plastic bread bags,
Bubble wrap, the outside plastic from loo rolls and kitchen rolls
Crisp packets (flat no crumbs, only those with the silver lining), Pringle tubs
Watches, computers, laptops, printers, keyboards, monitors, any type of line phones, speakers
Coffee pods including used coffee
We also try to feed the birds, encourage native wildflowers to grow in our grounds, and welcome people to use our space to relax - but please do so responsibly and do not leave litter! That's what the bins and recycling boxes are for.
Here's our newly planted native (organic!) Yew hedge and the start of our planned wildflower meadow churchyard!

and now our bee-friendly wildflower area is showing good results!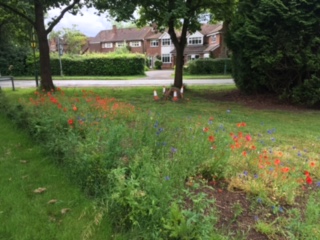 St Peter's Recycles - and supports its members -
As we have recently had to replace our guttering, we have rehomed some of it to help a church member to collect rainwater from her shed, for garden use!