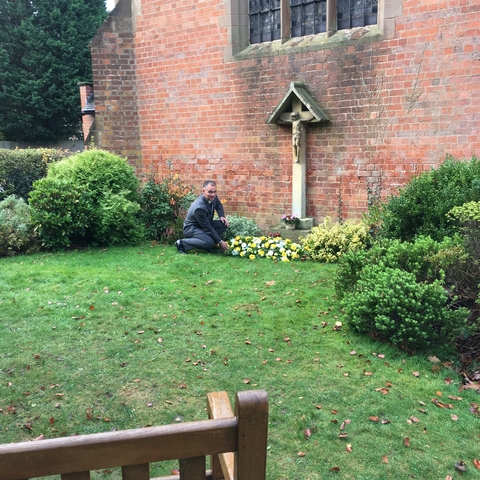 John and Marion Page – some of the 'older' members of the congregation might remember John Page who was a very loyal Reader in this parish for some years. He and his wife, Marion, moved to Kenilworth in 2002, and John died in March 2020. As this was during the time of the pandemic it was not possible to invite all friends to the funeral service, and so a service of Thanksgiving was held last week at St Nicholas Church, Kenilworth. I was privileged to attend.
Marion had died previously and her funeral was held at St John's Church, Kenilworth where she was an active member of Mothers' Union, as she was while living in Balsall Common, where she was leader of Mothers' Union here for some years.
The service at St Nicholas Church was very beautiful and during it two chairs were dedicated in memory of Marion and John. As usual the Eulogy, given by their daughter, Susan, threw up some unknown facts about John. I hadn't realised that he had studied in Chicago and did his National Service over in Germany. I also learnt that John trained to be a Reader at Hampton in Arden, and the current Vicar of Hampton, Revd Stuart Dimes came to the service. I remember John serving the parish faithfully and reading the Epistle every week – as was the custom at that time.
Susan, her husband Chris, and Stephen ask to be remembered to those at St Peter's Church who remember them. I am sure many remember John and Marion with great affection. May God bless them and their family.
Claire Laland