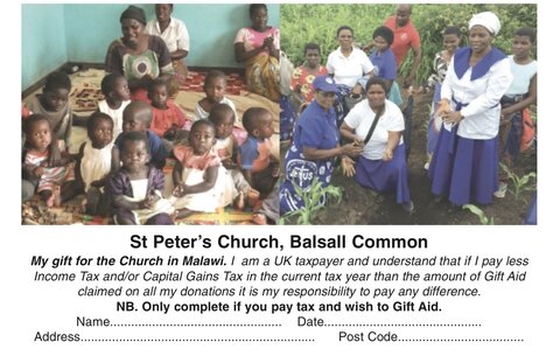 From time to time, we get some news about the churches of the Anglican dioceses of Malawi, which are "twinned" with the churches of Birmingham.
This time, Agnes is responding to some news from England....
A Message from Malawi - Agnes Mkoko writes:
Hello how are you over there?
Sad to hear about the death of the Queen, she was such a humble and lovely Queen. Loved by many. Malawi is one of the Commonwealth countries, so we mourn with you and in Malawi we have one of our referral hospital named after her, it is called Queen Elizabeth Central Hospital situated in Blantyre.
Our Prayers are with you all over there .
May Her Soul Rest In Eternal Peace.
.........................................
Every year, St Peters has a collection to send some support to the people of Malawi, along with many other churches around this area.
MALAWI CONTAINER. Agnes sends us this message
'Dear Mama Claire,
Greetings! The container has finally arrived and we have received the packages.
May the Lord bless you abundantly, we don' t take this for granted, we really appreciate. May you please pass on my sincere thanks and appreciations to all who were helping you to source and pack all these items, may the good Lord bless them abundantly.
The rains have started, but they come with storms, some people have lost their lives due to lightning, some houses falling down, our security fence also fell down due to heavy rains. We are just praying for good rains without destroying things.
Once again thank you very much for all your kindness, may you please pass on my sincere thanks and appreciations to all those who have assisted you in sending these items, may the Lord bless them abundantly.
Greetings to all friends at St. Peter's.'
Mostly, we copy any news or information about this to our special 'Malawi' page .... St Peter's links to the churches in Malawi
We also sometimes post letters and messages here from Agnes, our 'link person' - who was able to watch our 'Malawi' service online!
Malawi Update 2021
We have recently come across the work of Green Anglicans, and in particular, Charles Bakolo @BakoloCharles who is a member of the Malawi Creation Care Network, supporting churches invoived in the international effort against Climate Change. We commend his twitter account and will try to include news from him as well as from our correspondent Agnes Nkomo.
Malawi Update 2019
Paul Bracher, the Diocesan Malawi Partnership Officer visited all 4 Malawian Dioceses, 12 Anglican schools, 3 Anglican hospitals, 3 health centres, the Anglican Council of Malawi and 8 parishes (including 4 with partner parishes in Birmingham). While there, he saw the impact of the donations from our parishes and Diocese. He writes to share the thanks of our fellow Christians in that country, and to advise us to start thinking about donations for the next container! More information is also available at the Malawi pages of the Diocesan website (www.malawipartnership.co.uk).
Paul was able to hand over money raised in Birmingham for famine relief. Photos of fertiliser and seed purchased with this money will soon be on our website. Thank you to all who contributed. Paul also visited some remote health clinics and found seriously leaking roofs. As one person commented: `children arrive with malaria and leave with pneumonia`. The Diocese officers have decided immediately to fund replacement roofs for 3 clinics out of funds already raised.
"Above all, the support enables the vital priestly ministry of our sister church to continue. In some cases there is only one priest serving as many as 15 churches, some of them a five hour walk from the central church. As from 2019, some of the giving people in Birmingham so generously make to Malawi each year will be targeted towards the support of particular priests and parishes in the poorest parts of Malawi. The names and photographs of these priests and parishes (and their stories) will appear on our website so we in Birmingham can be helped to identify with them and pray for them.
In addition to hearing some of their stories of faith, we undoubtedly need to learn from Malawi, even more urgently, how we must look after our planet.
One thing we shall be considering in the next year is how we can encourage and enable Malawi to make better use of solar power – we are looking at various options. However, climate change in Malawi teaches us that we must do this in tandem with considering our own energy use."
MALAWI CONTAINER We will be collecting goods again this year to send in the Container. Especially needed are children's shoes, wellington boots & tee shirts, trousers, non-fitted sheets, wool, cotton, embroidery silks etc. Paper & pencils, bandages etc. are always needed. It costs £6 per cubic foot to send all the items. We will also be sending knitted blankets – for information about this speak to Alison Bennett or Stella Lamb. More details from Claire or email clmap18@gmail.com. Many thanks Claire Laland, Malawi Task Group.
You can also look at the Church of England Birmingham website of the Malawi Link :