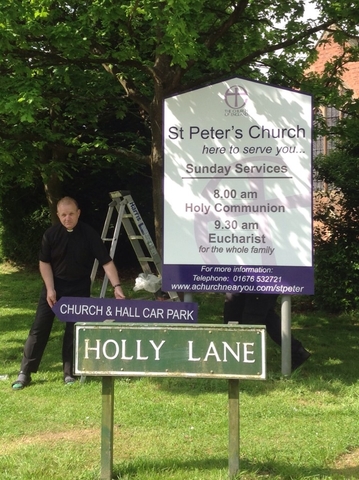 On most weeks you will find a file with the weekly news-sheet here. (Click on this link)….
If you have anything to be included next week please get it to Margaret Eyre by 09:30am Thursday.
mgoodmaneyre@aol.com
………………………………
Note that due to Coronavirus (COVID) things are very different, and sometimes change unexpectedly - so please also check our social media (Twitter or Facebook @spcbalsall).
Church-reopening ... The church will be open for Private Prayer on Wednesdays at 10:30-11:30am, and Sundays between 2:30pm and 3:30. Please read the notice on the front door - we have tried to ensure safe prayer! If these times do not suit you, we may be able to arrange another time by private arrangement. Please contact the Vicar to discuss this.
FoodBank Donations - these can be left in the Church Porch at the same times as the church is open for prayer.
The newsletter contains a lot of news, postings about things which are planned or timetabled to happen, and a look forward to the services in the coming week. It also carries links to other resources such as online services, worship music, and that week's service.
We have also posted the .pdf version of a Recent issue of 'The Key' magazine on the website … (Click on the link) ... although it is now a bit out of date! We are trying to get another edition together but it is hard when we cannot meet! We MIGHT do an online edition - but at the moment we are just posting contributions on the 'More News' section of our website ….
DO let us know if you read this online, please! (We do not actually charge for this service - but donations are always welcome!)
This Week's 'Collect' (Prayer for the week) during the COVID emergency can be found in our online service - www.spcbalsall.church/service/ .
We are also using the 'LYCiG' prayer - Leading Your Church into Growth - at the start of all our services and meetings. We hope that all our followers and readers of this page will say this prayer with us!
God of Mission Who alone brings growth to your Church, Send your Holy Spirit To give vision to our planning, Wisdom to our actions, And power to our witness, Help our church to grow in numbers, In spiritual commitment to you, And in service to our local community, Through Jesus Christ our Lord
ANNUAL MEETING to save paper & printing the PCC have agreed to make the annual reports available online. If you need a 'hard copy' for yourself, please ask - but you can go to the website … www.spcbalsall.church/AnnRep20/ ... - and there is also a full set of reports from the 2019 Annual Meeting available through the site, for those who might want to know what was said last year!
..................................................................................................................
You might be interested in seeing the video, when the puppets 'reinterpreted' the story of the first Easter. We have developed quite a library of these Puppet Gospel videos - let us know if you'd like to see them!
All the reports from our Annual Meeting are available to read online: Click here to see the page!
You might use the 'Events' on this site to see some of the things we are planning in the future.
For regular updates, see our Facebook and Twitter posts! We even have an Instagram page (a work in progress!) @spcbalsall for all of these.
You can find more information elsewhere on the site, but the Puppet Show at last year's Easter Celebration was so good we have left a photograph of it here! Look at 'Recent Events' for more, or the Facebook page to see the video! (This was one we did earlier but we have kept for the sake of history)
News from previous years
The 'new' monthly afternoon service which we call 'Lighthouse' has been MOST successful - pictures on Facebook. Why not come to the next one? (Our Pet Service ....) We also hold other less formal services including 'SWiTCH' (usually in the church Hall, at 9:30 on the Third Sunday of every month when it is our main service), and 'Café Church', usually on the 'Fifth Sunday' of the month (when there is one).
Here are a few items from 'ones we did earlier'. Some can also be found on links to other events like this one!
Earlier last year, some of us were (as you can see) at Birmingham Central Mosque with our friends from many faiths and Christian churches, to show solidarity with those from the Muslim community being targeted by Pegida and others.
And we also welcomed a lot of children and their pets (or cuddly toys) to the Pet Blessing Service at the end of January