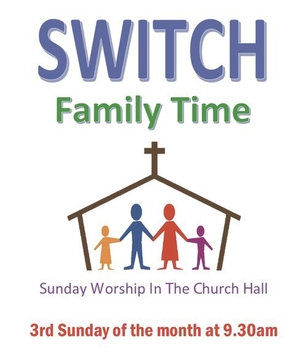 SWitCH
20 Feb 2022 9:30AM — 18 Jul 2022 10:30AM
A church is for life, not just Christmas! At St Peter's we're 'Here to Serve'. We're here for you in summery June or a dull and gloomy January just as much as we were in a sparkly fun-filled December. And throughout the Lockdown, we have been here 'on-line'. So why not "Come and See"? And for as long as possible, our 'informal' services are also back 'for real'! (But you can also check us out online).
Every month on the 'Third Sunday' we have a 'SWITCH' service - with activities for children around a theme, modern worship songs, and an informal atmosphere. This usually happens in the Church Hall - where there is plenty of room for the kids, and our challenging/ creative activities. Come any time after 9.30 and just join in - there is always also something for adults! And, coffee afterwards. We usually also put up something on Social Media to tell you about it - See our Facebook posts about recent events..... (there is also Twitter - www.twitter.com/spcbalsall )
Come, and you will find a warm welcome, (despite the restrictions due to Covid), some fun activities and a church family who is here to serve YOU! Everyone is welcome - so why not invite a friend - there will be lots of fun for all the family and some lively singing as well. During the COVID emergency we shall be taking extra precautions.
Back to events