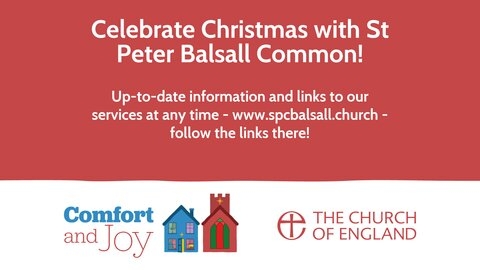 Christmas Services
19 Dec 2021 9:30AM — 25 Dec 2021 12:00PM
As far as we can make it, a COVID-Secure Christmas at the Parish Church - St Peter Balsall Common

December 19th 9:30 - Nativity play with Christingle – *in the Hall* Watch the puppets enact the old story afresh, and indeed, take part in a new version of our ever-fresh Nativity story, learn the story of the Christingle orange – and support the Children's Society!
December 21st 7:30 a special '9 Lessons and Carols' the Traditional Service! As usual, there will be superb singing by our choir. A proper start to the Christmas season.
On Christmas Eve, Dec 24th
4:00pm Crib Service Come and build a Crib at a family table in Church or Hall, as we listen again to the story of the first Christmas.
December 24th 11.30pm Midnight Mass – start Christmas Day with all the best Carols, Communion and goodwill to all
December 25th 8.00am Early (Said) Christmas Communion – keep the rest of the day free for visiting family & friends, or other activities you may have planned. This will use the BCP service.
December 25th 9.30am Our traditional Christmas Informal Family Communion for all the family. Bring an unexpected present and test the Vicar's skill at weaving it into his sermon? Meet your friends at church, and go home to your Christmas Dinner with a spring in your step!
NB: There will only be a short, said version of Communion on Sunday 26th December this year - the Bishop has suggested that the church's workers also need a day of rest!
Back to events