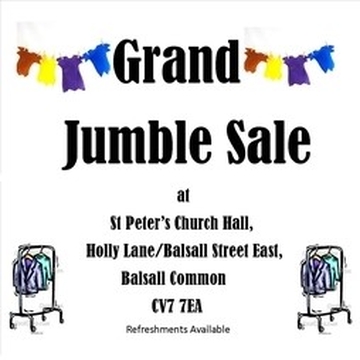 Jumble Sale
1 Sep 2022 2:30PM — 28 Sep 2022 4:00PM
Regrettably Postponed Again! - We love our Recycling and Bargain Hunters event! However, with Covid restrictions, we regret that we shall Again Not Be Able to run the FEBRUARY Jumble. Sorry, but Covid and other pressures mean we cannot mount our normal team of volunteers! We are now planning to find a way to run it in September (🤞)as before, and will post widely when that's sorted. WATCH THIS SPACE - we may have to postpone Again! (for your safety as well as ours)
Just keep watching and one day we hope to have a real date for you!
https://spcbalsall.contentfiles.net/media/assets/im...
The traditional regular Church Jumble Sale to help you empty your attic, buy bric-à-brac and clothes for pennies, and enjoy a social activity at the same time. If you have anything that might be worth selling - childrens toys, crockery, small items of furniture like sidetables, you can bring it to the Hall on the evening before (or in the morning). Contact us if you need help - by email (mailto:spcbalsall@gmail.com) Or indeed, if you'd like to join the team organising the event or as a volunteer selling stuff. Note however, that we cannot accept large items of furniture (sideboards, armchairs etc) or carpets, as if it does not sell, we have to pay to get it taken away!
Note - there is a small admission charge.
We allow a limited number of tickets for "early access" between 11:00 and 12:00 ONLY on Saturday - although prices of items will be negotiated individually with a member of the organising committee, and there is a charge for the privilege, of £10 per person. Contact us IN ADVANCE (spcbalsall@gmail.com) to reserve a place under this scheme! Coffee and waiting space in the church from 10:00.
Back to events