Service for May 30th 2020 - Pentecost Sunday ('Whitsun')
Following this introduction, you will find the order of service for our All-Age Eucharist. At various points, there are Links - usually showing in a different colour - if you 'click' on these you will be taken to additional resources to enhance your worship. If it is a video or another 'page', this should open as a new page on your screen, so that when it ends, you can close the window or 'click' on the back-arrow to go back to the main text. There are some activities for children, like our 'Sermon skivers' as well as a sermon for the adults!
Please let us know if this has been helpful, what you have liked most or disliked, and if you have any other suggestions! Thank you.
We are grateful to Kim, our Organist, for recording the tunes of some hymns for us - within copyright law! We do have a CCLI licence for music in church, but this does not cover streaming or broadcasts. We have also used some recordings that are in the public domain or allowed by their Rights Owner for use in worship etc... and Youtube is covered by a different set of rules! Each of these clips may operate differently so look to see if we have put any guidance, before you click! Apologies also for the inclusion of advertisements in some clips! They pay for the copyright, so we have to put up with them. Likewise, in the music played by Kim, we have to acknowledge the 'free' editing software we used!
NB For video clips, you may need to click on the 'play' button ( usually a black circle with a > in it, or just a black > symbol).

THE ORDER FOR THE EUCHARIST at ST PETER'S CHURCH, BALSALL COMMON
[At the end of EASTER SEASON]
As this is Pentecost, the Vicar has recorded a special Eucharistic Prayer and Blessing for this service.
An opening hymn, played by our organist on his piano at home, while we prepare ourselves for worship - click here to hear a clip of some appropriate music to get us into the mood - All over the World
We say our Prayer for Growth together:
WELCOME
The Presiding Minister may say
In the name of the Father, and of the Son, and of the Holy Spirit.
ALL: Amen.
The Presiding Minister greets the people saying:
Alleluia! Christ is risen,
All: He is risen indeed. Alleluia.
The Presiding Minister introduces the theme of the service.
PRAYERS OF PENITENCE
The Presiding Minister invites us to confess our sins to God:
Minister: Christ our Passover lamb has been sacrificed for us. Let us therefore rejoice by putting away all malice and evil and confessing our sins with a sincere and true heart.
Please sit or kneel
ALL: O Jesus Christ, risen Master and triumphant Lord, we come to you in sorrow for our sins, and confess to you our weakness and unbelief. We have lived by our own strength, and not by the power of your resurrection. We have lived by the light of our own eyes, as faithless and not believing. We have lived for this world alone, and doubted our home in heaven. In your mercy, Lord, hear us, forgive us and help us.
Amen.
To see and hear Absolution pronounced, click on this link. Close the tab/click back arrow < to return to this page and the words and subsequent links.
Minister: God who is both power and love, forgive you and free you from your sins, heal and strengthen you by his spirit, and raise you to new life in Christ our Lord.
ALL: Amen.
The following is sung by all:
Lord, have mercy. Lord, have mercy. Lord, have mercy.
Christ, have mercy. Christ, have mercy. Christ, have mercy.
Lord, have mercy. Lord, have mercy. Lord, have mercy.
GLORIA
Glory to God in the highest, and peace to his people on earth. Lord God, heavenly King, almighty God and Father, we worship you, we give you thanks, we praise you for your glory.
Lord Jesus Christ, only Son of the Father, Lord God, Lamb of God, you take away the sin of the world: have mercy on us; you are seated at the right hand of the Father: receive our prayer.
For you alone are the Holy One, you alone are the Lord, you alone are the Most High, Jesus Christ, with the Holy Spirit, in the glory of God the Father.
THE COLLECT (The special Prayer for the day)
God, who as at this time taught the hearts of your faithful people by sending to them the light of your Holy Spirit: grant us by the same Spirit to have a right judgement in all things and evermore to rejoice in his holy comfort; through the merits of Christ Jesus our Saviour, who is alive and reigns with you, in the unity of the Holy Spirit, one God, now and for ever
Amen.
READINGS FROM SCRIPTURE
Acts 2: 1-21
The Gospel: John 7: 37-39
A reading from the New Testament follows. You may read it from your own bible if you like. At the end, the reader says: This is the Word of the Lord.
Please click here to view the video of an interpretation of the New Testament Reading - presented by one of our young families. Please remember to close the window or use the 'back arrow' (<) which you will find in the left-hand corner of your screen. (Link disabled in accordance with ouR Safeguarding Policy).
ALL: Thanks be to God.
Today is Pentecost, when God sent his Holy Spirit to help all his disciples to be able to do things for him to tell other people about Jesus.

Today is often thought of as the birthday of the church so maybe we can sing Happy Birthday to our church, and anybody else who might have a birthday.
At 11 o'clock we are all meeting for a drink and maybe a cake on Zoom!
At this point you may wish to hear the Gospel and the Sermon which today is given by Moira
- when it finishes, close the window or use the 'back arrow' < which will be in the left-hand corner of your screen.
A READING FROM THE GOSPEL
When the Gospel Reading is announced the reader says:
Hear the Gospel of our Lord Jesus Christ according to N.
ALL: Glory to you, O Lord.
We stand to say THE PROFESSION OF FAITH (The Creed).
We believe in one God, the Father, the Almighty, maker of heaven and earth, of all that is, seen and unseen. We believe in one Lord, Jesus Christ, the only Son of God, eternally begotten of the Father, God from God, Light from Light, true God from true God, begotten, not made, of one being with the Father; through him all things were made. For us and for our salvation, he came down from heaven, and was incarnate of the Holy Spirit and the Virgin Mary and was made man. For our sake he was crucified under Pontius Pilate; he suffered death and was buried. On the third day he rose again according to the Scriptures; he ascended into heaven and is seated at the right hand of the Father. He will come again in glory to judge the living and the dead, and his kingdom will have no end.
We believe in the Holy Spirit, the Lord, the giver of life, who proceeds from the Father, who with the Father and the Son is worshipped and glorified, who has spoken through the prophets. We believe in one Holy Catholic and Apostolic Church. We acknowledge one Baptism for the forgiveness of sins. We look for the resurrection of the dead, and the life of the world to come.
Amen.
THE PRAYERS OF THE FAITHFUL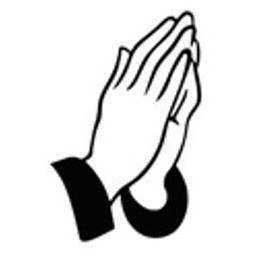 We offer up our prayers, both those which are personal, and also those which we offer as a church.
The prayers this week are introduced by a prayer by one of our young families Click here to see the prayer ... (Link disabled in accordance with our safeguarding policy).
Please include the names and people listed below in your own personal prayers now and through the week.
Almighty God, our Heavenly Father, you promised through your Son Jesus Christ to hear us when we pray in faith.

Our prayers today are asked for:

Churches working with the homeless;

MPs and Government officials;

The Jubilee;

Those suffering from religious intolerance, and all who are self-isolating or have the coronavirus, especially anyone living alone.

And in particular,

those who are ill, struggling or recovering including: Dorothy Allcock, Elizabeth Clement, Terry Curry, Vanessa Godfrey, Ruth Kenyon & family, Brien Lawrence, Rhiannon Mapleston, Chris Mayhew, Karen McDougal, John Sleath, Linda Whitlock, Ray Thompson, Val Underhill, Alison & Maureen.
those who have died recently: Jean Jamieson,Iris Pryce
those whose anniversary of death occurs at this time: Ivan Brown, Ray Furness
please continue to pray for: Peter Allcock, Philip Cater, Lorna Collings, Elsie Crook, Bob Dagger, Enid Jansen, Paul Jobbins, Mair Mosford, Bill Price, Amy Stevens, Gail Upton, Peter & Pat Wright, Fiona, Jessica, Mark, Sarah,Stella & all their families

Lord according to your promises, grant us with them a share in your eternal kingdom:

Lord, in your mercy – Hear our prayer

We also bring before our Heavenly Father our own private and personal petitions, concerns and thanksgivings.

Rejoicing in the Fellowship of St Peter and all your saints, we commend ourselves and all Christians to your unfailing love:

Merciful Father,

ALL: accept these prayers for the sake of your Son, our Saviour, Jesus Christ. Amen.

THE PEACE

The Presiding Minister says:

The risen Christ came and stood among his disciples and said, 'Peace be with you' Then they were glad when they saw the Lord - Alleluia

The peace of the Lord be always with you

ALL: and also with you
We have also recorded the next section of the service including the Eucharistic Prayer: this is a special recording for Pentecost and the wording is slightly different from that printed below. Now you can click on this link to play that video. To return to this script - as before, use the back-arrow or close the window. Otherwise, continue reading - if you have played the video, scroll down to the post-communion prayer of thanksgiving.
THE EUCHARISTIC PRAYER (The Great Prayer of Thanksgiving)

The Presiding Minister says
Blessed are you Lord God of all creation; through your goodness we have this Bread to offer which earth has given and human hands have made. For us it becomes the bread of life.
ALL: Blessed be God for ever
Blessed are you Lord God of all creation; through your goodness we have this wine to offer, fruit of the vine and work of human hands. For us it becomes the cup of salvation.
ALL: Blessed be God for ever
Pray, that my sacrifice and yours may be acceptable to God, the Almighty Father.
ALL: May the Lord accept the sacrifice at your hands for the praise and glory of His name, for our good, and the good of all His Church
The Lord be with you.
ALL: And also with you.
Lift up your hearts.
ALL : We lift them to the Lord.
Let us give thanks to the Lord our God.
ALL: It is right to give him thanks and praise.
It is indeed right, our duty and our joy, always and everywhere to give you thanks, almighty and eternal Father, and in these days of Easter to celebrate with joyful hearts the memory of your wonderful works. For by the mystery of his passion Jesus Christ, your risen Son, has conquered the powers of death and hell and restored in men and women the image of your glory. He has placed them once more in paradise and opened to them the gate of life eternal. And so, in the joy of this Passover, earth and heaven resound with gladness, while angels and archangels and the powers of all creation sing for ever the hymn of your glory:
ALL: Holy, holy, holy Lord, God of power and might, Heaven and earth are full of your glory. Hosanna in the highest.
Blessed is he who comes in the name of the Lord. Hosanna in the highest.
Lord, you are holy indeed, the source of all holiness; Grant that by the power of your Holy Spirit, and according to your holy will, these gifts of bread and wine may be to us the body and blood of our Lord Jesus Christ;
Who in the same night that he was betrayed, took bread and gave you thanks; he broke it, and gave it to his disciples, saying:
Take, eat, this is my body which is given for you; do this in remembrance of me.
In the same way, after supper, he took the cup and gave you thanks; he gave it to them saying:
Drink this, all of you; this is my blood of the new covenant, which is shed for you and for many for the forgiveness of sins. Do this, as often as you drink it, in remembrance of me.
ALL: Dying you destroyed our death, rising you restored our life: Lord Jesus, come in glory.
And so, Father, calling to mind his death on the cross, his perfect sacrifice made once for the sins of the whole world; rejoicing in his mighty resurrection and glorious ascension, and looking for his coming in glory, we celebrate this memorial of our redemption. As we offer you this our sacrifice of praise and thanksgiving, we bring before you this bread and cup and we thank you for counting us worthy to stand in your presence and serve you.
Send the Holy Spirit on your people and gather into one in your kingdom all who share in this one bread and one cup, so that we, in the company of St. Peter and all the saints, may praise and glorify you for ever, through Jesus Christ our Lord; by whom, with whom, and in whom, in the unity of the Holy Spirit, all honour and glory be yours, almighty Father, for ever and ever
ALL: Amen
THE LORD'S PRAYER
Let us pray with confidence as our Saviour has taught us
ALL: Our Father, who art in Heaven, Hallowed be thy name; Thy Kingdom come, thy will be done on earth as it is in Heaven.
Give us this day our daily bread And forgive us our trespasses, as we forgive those who trespass against us. And lead us not into temptation;
but deliver us from evil. For thine is the kingdom, the power and the glory, for ever and ever.
Amen.
The Breaking of Bread: The Presiding Minister breaks the consecrated bread.
We break this bread to share in the body of Christ
ALL: Though we are many we are one body for we all share in the one bread.
THE HOLY COMMUNION: The Presiding Minister invites the people to the Holy Communion.
God's holy gifts for God's holy people.
ALL: Jesus Christ is holy, Jesus Christ is Lord, to the glory of God the Father.
……. giving of communion …..
POST-COMMUNION PRAYER OF THANKSGIVING
We join together in saying:
ALL: Father of all, we give you thanks and praise, that when we were still far off you met us in your Son and brought us home. Dying and living, he declared your love, gave us grace and opened the gate of glory.
May we who share Christ's body live his risen life; we who drink his cup bring life to others; we whom the Spirit lights give light to the world, keep us firm in the hope you have set before us, so we, and all your children shall be free, and the whole earth live to praise your name; through Christ our Lord.
Amen.
The Blessing
God the Father, by whose love Christ was raised from the dead, open to you who believe the gates of everlasting life.
Amen.
God the Son, who, in bursting the grave has won a glorious victory, give you joy as you share the Easter faith.
Amen.
God the Holy Spirit, whom the risen Lord breathed into his disciples, empower you and fill you with Christ's peace.
And the blessing of God Almighty, the Father, the Son and the Holy Spirit, be among you and remain with you always.
ALL: Amen.
The Vicar has recorded a special Pentecost blessing to close this service, from the Sacristy of our own church following relaxation of lockdown rules!
A Minister says:
Go in the peace of Christ - Alleluia! Alleluia!
ALL: Thanks be to God. Alleluia! Alleluia!.
Feel free to sing along!
Since this is an 'All-Age' service, we thought it appropriate to end with 'The Blessing', sung by children from all over the world! Click here to open the video and hear the Children's Blessing
And to close, by popular request once again, click on the 'blue' words at the end of this paragraph to listen as a 'virtual choir' sings 'A Blessing over the nation' .
---
And now, we hope you will go and get yourself a drink, maybe a bit of cake, and join us in our 'Zoom' get-together (click on the link in the email you were sent yesterday) ... and if you have any other particular requests, email spcbalsall@gmail.com ! 🎼💒🎹
---