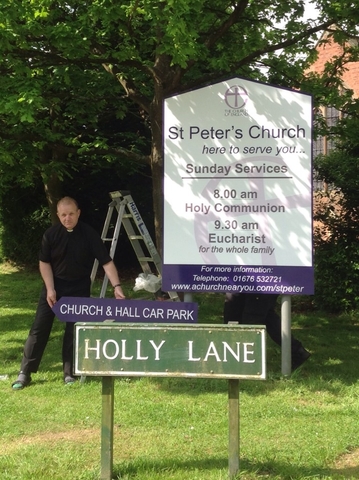 From St Peter's House
Weddings and Easter, any similarity?
From St Peter's House (Written just before the CoronaVirus Emergency!)
Dear Friends
As most of you probably know, I have two family weddings coming up; Harriet and Dan's this month, and Adam and Emily's in June.There is, as you might expect, much discussion and conversation going on as all the arrangements are being worked out. Who to invite, what readings, music and hymns to be chosen, what to wear, place of the reception, honeymoon to organise and who's paying for what!
Preparations
Amongst all these preparations I have Easter to think about and a sabbatical to get ready for. When the copy date for this letter loomed large, therefore, what
else could I write about but weddings and Easter?
Weddings
A wedding is about cementing a relationship between two people with vows and promises intended to be lifelong.A wedding in Church is before the God of love and states that "God is love and those who live in love live in God and God lives in them".Then at the proclamation of the marriage the priest says "those whom God has joined together let no-one put asunder".
Easter
Easter, the culmination of Christ's suffering and death, celebrates the resurrection and the promise of that resurrection is that we can be restored to a close relationship with God from which we have fallen away through sin. We can cement our relationship with God through confessing our sin and receiving God's forgiveness.
Tradition
A long-established tradition in the church is to baptise and confirm people at Easter when the candidates make vows and promises to follow Christ all the days of their life. This year our confirmation candidates will be confirmed on Easter Eve at the Cathedral, during the Easter eve celebration of the lighting of the new fire, vigil of reading and the first communion of Easter.
Happy occasion
A wedding is a happy occasion and worth celebrating with a party or feast afterwards. This reminds us of the wedding feast at Cana which Jesus attended. An occasion of great merriment with plenty of wine. Easter is a happy occasion and so also worthy of celebration. For the past couple of years we have had an Easter celebration for the whole community and St Peter's will do so again this year. (Regrettably, not now: ED)
Family and friends
Just as weddings bring family and friends together so we pray that our Easter celebration will bring families and friends in Balsall Common together. The invitation is open to all. We feast together, first with communion then with barbecue and fun, and ultimately at the feast in the Kingdom of God.
Two become one
In marriage two become one as each commits to the other in love and "those whom God has joined together let no-one put asunder".
At Easter we celebrate God's love for us in that he gave up his life that we might live and be joined together with Christ as one. To fully join in we vow to commit ourselves to God through Jesus and when we commit ourselves to God
"nothing can separate us from his love; neither death, nor life, nor angels, nor principalities, nor powers, nor things present, nor things to come, nor height, nor depth, nor anything in all creation will be able to separate us from the love of God in Jesus Christ our Lord" (Rom 8:38-39)
Let's celebrate
I wish you all a great celebration of the Easter Feast and the Easter faith.
Every blessing
Fr. Peter