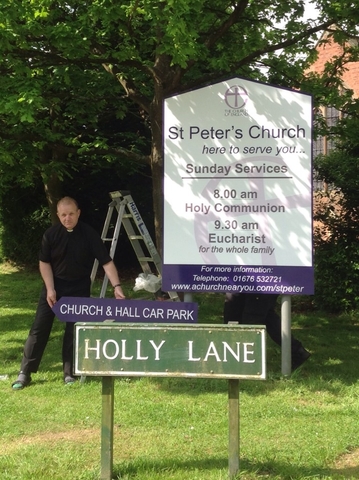 On most weeks you will find a file with the weekly news-sheet here. (Click on this link)
The newsletter contains a lot of news, postings about things which are planned or timetabled to happen, and a look forward to the services in the coming week. You can also always pick up a copy from the book trolley as you pass the church.
Lots of news in this week's newsletter - and if there is demand, we shall post the .pdf version of the Current issue of 'The Key' magazine on the website … (Click on the link) ... let us know if you read this online, please! At the moment we do not actually charge for this service - but donations are always welcome! NB if no-one notices that I have not updated the file, then I may not bother until someone actually asks for it! The November issue is actually ready and available but no-one seems to be using this so I'll save my breathe until you do!
The Christmas Services and events are now all listed on the 'forthcoming Events' pages and in the new issue of the Magazine (out next Sunday) …. and will be posted on social media as well. Or in our old 'A Church Near You' pages ….
2020 CHURCH ROTAS - Christine & Malcolm our Church Wardens are about to put together the new cleaning & sides-persons rotas for 2020. It would be really appreciated by everyone already on the rotas if we had some new people to spread the load. Please if you would like to help speak/ring/email me on: 01676 532793 or christine.g.hornsby@gmail.com
AGM– the whole annual report can be read online at: http://www.spcbalsall.church/Reports/

FAIRTRADE CHRISTMAS - we have catalogues & sample copies of the Christmas cards - at a very good discount wholesale price! See us after the 9:30 service or before the 11:00 one! (@ coffee for all). Plus, the usual goods: chocolate, tea, ginger biscuits etc. Or send an email & ask...
This Week's 'Collect' (Prayer for the week):

God the Father, help us to hear the call of Christ the King and to follow in his service, whose kingdom has no end; for he reigns with you and the Holy Spirit, one God, one glory.
through Jesus Christ your Son our Lord, who is alive and reigns with you, in the unity of the Holy Spirit, one God, now and for ever. Amen
We are also using the 'LYCiG' prayer - Leading Your Church into Growth - at the start of all our services and meetings. We hope that all our followers and readers of this page will say this prayer with us!
God of Mission Who alone brings growth to your Church, Send your Holy Spirit To give vision to our planning, Wisdom to our actions, And power to our witness, Help our church to grow in numbers, In spiritual commitment to you, And in service to our local community, Through Jesus Christ our Lord
NB: we posted the full set of reports from the Annual Meeting here for those who might want to know more about our activities throughout the last year!
..................................................................................................................
You might be interested in seeing the video, when the puppets 'reinterpreted' the story of the first Easter.
All the reports from our Annual Meeting are available to read online: Click here to see the page!
You might use the 'Events' on this site to see some of the things we are planning in the future.
For regular updates, see our Facebook and Twitter posts! We even have an Instagram page (a work in progress!) @spcbalsall for all of these.
You can find more information elsewhere on the site, but the Puppet Show at last year's Easter Celebration was so good we have left a photograph of it here! Look at 'Recent Events' for more, or the Facebook page to see the video! (This was one we did earlier but we have kept for the sake of history)
News from previous years
The 'new' monthly afternoon service which we call 'Lighthouse' has been MOST successful - pictures on Facebook. Why not come to the next one? (Our Pet Service ....) We also hold other less formal services including 'SWiTCH' (usually in the church Hall, at 9:30 on the Third Sunday of every month when it is our main service), and 'Café Church', usually on the 'Fifth Sunday' of the month (when there is one).
Here are a few items from 'ones we did earlier'. Some can also be found on links to other events like this one!
Earlier last year, some of us were (as you can see) at Birmingham Central Mosque with our friends from many faiths and Christian churches, to show solidarity with those from the Muslim community being targeted by Pegida and others.
And we also welcomed a lot of children and their pets (or cuddly toys) to the Pet Blessing Service at the end of January