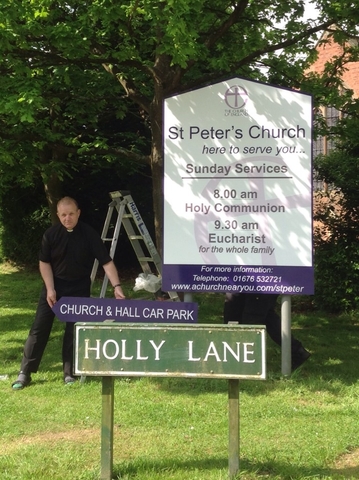 On most weeks you will find a file with the weekly news-sheet here. (Click on this link)
The newsletter contains a lot of news, postings about things which are planned or timetabled to happen, and a look forward to the services in the coming week. You can also always pick up a copy from the book trolley as you pass the church.
Lots of news in this week's newsletter - and some time ago we posted the .pdf version of the July issue of 'The Key' magazine on the website … (Click on the link) ... let us know if you read this online, please! At the moment we do not actually charge for this service - but donations are always welcome! NB if no-one notices that I have not updated the file, then I may not bother until someone actually asks for it! The September one is actually ready and available but no-one seems to be using this so I'll save my breathe until you do!
AGM– the whole annual report can be read online at: http://www.spcbalsall.church/Reports/
Top News and Notices:
NEXT SUNDAY is HARVEST! At both 9:30 Switch & 11:00 Communion we shall be delighted if people can bring fresh fruit & veg which we will be taking to the Small Heath /Sparkhill Food Bank, along with other things they have requested from our Jumble Sale! Please donate generously!
LAST CHANCE to submit anything for our October Magazine - by Monday evening, please, to spcbalsall@outlook.com
JUMBLE SALE on Saturday 14th September @ 2.30 p.m.in St Peter's Church Hall.
Our jumbles are a great community event and give us a fantastic opportunity for outreach, not only with those that come to buy but also those who donate. They also help to raise much needed funds for our Church & are a great way to encourage re-cycling and re-use!.
Help needed from 2 pm on Saturday to sell, no experience necessary; to set up Fri 13th Sept from 7.00 p.m.; Sat from 9.30 a.m. & to help clear up after the sale. Please help wherever you can. Please contact Chris Price Tel 532625, email: c.price625@gmail.com or Pat Eyre.
CHILDREN'S TOMBOLA. We are again having a stall @ the Balsall Common Festival in the park on September 21st & would really appreciate your help. We need toys for boys & girls up to the age of 12, cuddly toys, Matchbox cars, Lego, activity books, dressing up clothes, especially hats would be suitable anything else which looks fun to play with. There is a box in the porch for donations. Any questions please contact Joan Lancaster: 01676 533783.
COPING WITH BEREAVEMENT?
Trying to work through a bereavement? Working through grief and the loss of a loved one takes a long time. Our Bereavement Care Group are running a 6-week course where we journey through this together.
This course is for any person who is bereaved, whether recently or dating back several years.
On Monday evenings from 6-45 to 9-00pm, starting on 7th October & running till 11th November. In the lounge/ Baptistry.More details from Margaret: 01926 484728 or Mark: 01676 532389
Email: spcbalsall@outlook.com
THERE IS A CHANGE IN THE PATTERN OF SERVICES FROM THE BEGINNING OF SEPTEMBER – pick up a leaflet from the back of church for details
This Week's 'Collect' (Prayer for the week):

God of constant mercy, who sent your Son to save us: remind us of your goodness, increase your grace within us, that our thankfulness may grow,
through Jesus Christ your Son our Lord, who is alive and reigns with you, in the unity of the Holy Spirit, one God, now and for ever. Amen
We are also using the 'LYCiG' prayer - Leading Your Church into Growth - at the start of all our services and meetings. We hope that all our followers and readers of this page will say this prayer with us!
God of Mission Who alone brings growth to your Church, Send your Holy Spirit To give vision to our planning, Wisdom to our actions, And power to our witness, Help our church to grow in numbers, In spiritual commitment to you, And in service to our local community, Through Jesus Christ our Lord
NB: we have also posted the full set of reports from the Annual Meeting here for those who might want to know more about our activities throughout the last year!
..................................................................................................................
You might be interested in seeing the video, when the puppets 'reinterpreted' the story of the first Easter.
All the reports from our Annual Meeting are available to read online: Click here to see the page!
You might use the 'Events' on this site to see some of the things we are planning in the future.
For regular updates, see our Facebook and Twitter posts! We even have an Instagram page (a work in progress!) @spcbalsall for all of these.
You can find more information elsewhere on the site, but the Puppet Show at last year's Easter Celebration was so good we have left a photograph of it here! Look at 'Recent Events' for more, or the Facebook page to see the video! (This was one we did earlier but we have kept for the sake of history)
News from previous years
The 'new' monthly afternoon service which we call 'Lighthouse' has been MOST successful - pictures on Facebook. Why not come to the next one? (Our Pet Service ....) We also hold other less formal services including 'SWiTCH' (usually in the church Hall, at 9:30 on the Third Sunday of every month when it is our main service), and 'Café Church', usually on the 'Fifth Sunday' of the month (when there is one).
Here are a few items from 'ones we did earlier'. Some can also be found on links to other events like this one!
Earlier last year, some of us were (as you can see) at Birmingham Central Mosque with our friends from many faiths and Christian churches, to show solidarity with those from the Muslim community being targeted by Pegida and others.
And we also welcomed a lot of children and their pets (or cuddly toys) to the Pet Blessing Service at the end of January