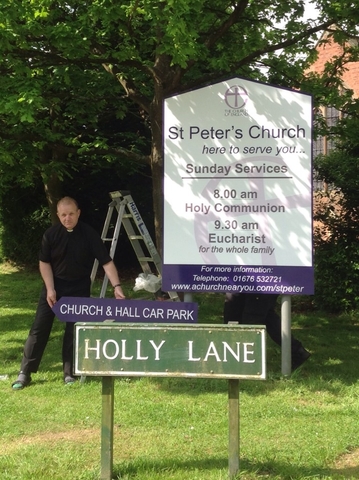 From St Peter's House
Oh God why not now?
From St Peter's House
Dear Friends
This morning (New Years Day) I woke up thinking 'this year I want to achieve this and that, I want to stop the other and generally strive to do better in something else'.You will note that I have deliberately not revealed what 'this, that, the other and something else' is, because from past experience I know I will not achieve them all in the way that I imagine, so telling you would show up my failures!
Reflection
After these thoughts I then began reflecting back on the past and my past resolutions. I discovered that over the years some of the past resolutions and hopes have been achieved but often not in the way imagined and in the time scale I had in mind.
All this thought and reflection led me to consider how God has been there through my life in good times and bad.
Prayer answered
I have often reflected how God has answered prayer in the way that was best for me, and not always the way I would wish and when I would wish. Sometimes the answer to prayer is only realised years later down the line when I spend time and look back.
God's time
My conclusion always comes down to the fact that all is in God's time for the best, and not my time for less than the best. God has a plan for me and I can either choose to accept and go along with that plan or fight against it and feel frustrated.This is difficult because it means putting total trust in God and not knowing where he will lead me. That can be scary stuff!
God's Voice?
People often ask me 'have I ever heard the voice of God?' Or I have had people say that they have never heard God's voice and they are just waiting for that moment – a miraculous moment – to audibly hear a voice.
For most of us it doesn't happen like that. The guidance of God may come to us in the very ordinary things of life - a conversation with someone, a gut feeling, from reading a piece of scripture, from seeing the faith and actions of others, or in a moment of reflection.
Another's witness
I heard, over the Christmas festivities, from one of my relatives that she was initially drawn to faith in God by seeing a poor woman in India who was widowed and had not been able to have children. This woman had taken in street children and orphans, brought them up and cared for them without any financial support. When my relative asked how she managed to do all that the reply from her was simply 'God'.
That one word, and the living witness, was sufficient for my relative to consider faith herself. For my relative that encounter, was God speaking directly to her.
Are we listening?
The point I am trying to make is that we need to be in tune with God, so his voice, his message for us, is received. A television that is not tuned in properly has no picture or a very fuzzy one. A television that is properly tuned with aerials pointing in the right direction provides us with a clear picture we can see and hear.
A challenge
In this year shall we all set ourselves a challenge to really tune in to God through praying, worshiping, listening, reading scripture, reflecting, and recognising other people witnessing in perhaps very simple ways? We also need to learn patience knowing that we are in God's hands, in God's time, for the best God has in store for us.
Every blessing
Fr. Peter