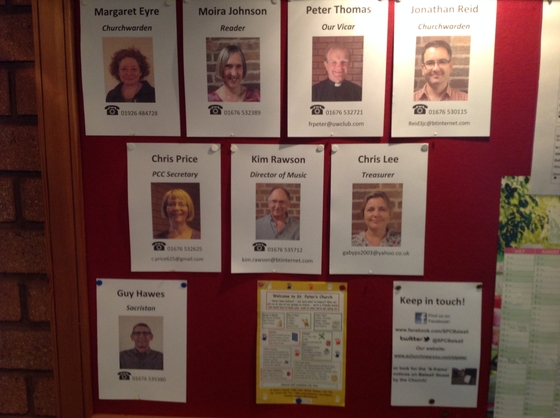 Some Advent thoughts
Malcolm Leighton
Father Peter's thought provoking article in the church magazine about Christmas commercialism reminded me that I received an email on August 5th this year from a local garden centre telling me to book early for a Christmas meal with Santa. This blatant drive to persuade people to part with more money, earlier and thus extending the Christmas spending season does not happen everywhere in the world.
In 2005, having taken early retirement from work, Megan and I moved to live not far from Alicante in Spain. We enjoyed a very much more relaxed style of life for about nine years. We had to get used to very hot summers and winters which could drop very cold in a very short space of time. There was a long list of family and friends who soon became regular visitors. In that part of Spain there was no advertising of Christmas until the end of November. Suddenly everywhere was transformed with decorations and Christmas produce. Almost every shop had a Nativity tableau. They were many and varied, and some were quite complex and really works of art. In nearby Torrevieja there is a museum devoted entirely to them. The music in the larger stores consisted almost entirely of choirs of children singing Spanish Christmas carols.
There are some lovely memories of Christmas in Spain. The last Friday evening before Christmas there was always an inter denominational carol service in Torrevieja. It took place in the square outside the Roman Catholic church, near the large tableau of the Christmas story. The service originated with the British expats and was conducted in English. Over the years more and more of the 100 or so nationalities resident in the city began to participate. Before we returned to England it had become very cosmopolitan and the carols were sung in Spanish and in English. We always enjoyed a Christmas morning walk on the beach, usually in bright sunshine. It was amazing to look across at the snow covered mountains behind Benidorm.
Spanish children only receive token presents on Christmas day. The most important day for them is The Epiphany on January 6th. The Spanish are among the brightest and best when it comes to parades. In our local town, Guardamar del Segura, it always contained colourful marching bands and dancing troupes. There were always several of each who had to stop every few yards to perform. This made for a very long parade. The stars of the show were always the brightly coloured Three Kings riding horses or camels. Behind them came carriages laden with sweets to be thrown for children to catch. The parade ended at the Town Hall where the children lined up to collect a gift from one of the Kings. It was always a memorable evening.
People have asked why we returned to England. The answer is simple. It was the arrival of grandchildren and the chance to be part of their lives. The lure of a family Christmas is very strong, wherever you spend it.