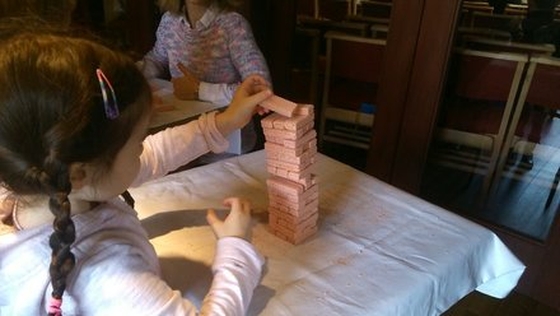 Letter from Claire
From Claire the CfM!
After a long, cold, and wet winter, it finally feels like summer has arrived, hooray! It's been so good to go down to the field with The Rock Club to hang out and play games. Rock-Up have also made good use of the church hall garden, enjoying ice creams and water fights! I've got a real taste for the summer holidays and I'm already making plans for the holiday club that will take place on 24th, 25th and 26th July. All children aged 5-11 years are welcome to come along. Café Church on the following Sunday, 29th July, will give you a flavour of what the children will have been up to as they will share some of the fun things they've been doing during the week. Do come and join us if you can!
On the evening of 26th July, the final day of the holiday club, I'm so excited to be able to tell you about a Christian Illusionist who will be coming to St Peter's Hall to perform a show. Todd Alexander has appeared on television, performed for VIPs at football grounds, to judges at private parties and recently performed at the London Palladium. He really is breath-taking to watch! His show combines stage illusions, comedy, danger and incredible sleight of hand. As well as sawing celebrities in half and levitating vicars, Todd combines in his performance a gospel message about what is real and what is simply illusion.
This got me thinking, how do we know that God really is real and not just an illusion? If you're anything like me you may go through times in life when if feels like God is a million miles away, and it's easy to doubt his existence. At Rock Up this week we are looking at that very thing. Asking questions like 'How can you believe in a God you can't see?' And 'How do you know he exists if you can't physically prove He does?'
I've been privileged to know Todd for a long time. His parents ran the Christian youth group that I attended as a youngster, and played a key role in nurturing my faith. They now give out Gideon Bibles to students, including those at Heart of England School, and the young people at Rock-Up got to meet them a couple of weeks ago. They were so excited to tell me about their new Bibles! What a coincidence that was! This is a perfect example of how I know that God is real. If you just take some to time to look around you, He's undoubtedly at work. We don't always notice something or find it unless we are actively looking for it, and this can be the case with God. In the Bible it says that if we seek then we shall find (Matthew 7:7-8).There are times when God can show up and make it obvious He's there but sometimes He wants to be found. Have you ever tried looking for Him?
If you'd like to know more about what we do at St Peter's you can contact Claire at cfmstpeterschurch@gmail.com.
THE ROCK @ ST PETER'S for years 5 and 6. We have some organised activities using the hall's facilities, which may include baking, drama, craft, God slot, outside games etc. if the children tell us this is what they want. So here's what's happening……
IT'S FOR: Years 5 and 6
WHEN: Thursdays (during Term times) 3.30pm-5.30pm
WHERE: St Peter's Church/Hall
COST: £2
THE DETAILS:
(We now ask you to arrange for your child to come directly to the Hall after school).
Please collect your child from St Peter's at 5.30pm. On their first visit, we do ask you to complete a registration form for you to provide your contact details and any other information you wish to let us know, in particular any allergies your child may have.
We serve pizza and drinks at around 5pm and there will be a tuck shop available if the children want to bring extra money.
At present we are unable to collect additional children after their school clubs at 4.30pm as there aren't enough volunteers available to bring them over. However we are more than happy for children to join us if they can make their own way to us with/without your supervision.
And finally we really need some volunteers to make this work please! Let us kow if you are interested or have a skill you can offer. Thank you! Any other questions or queries please message me, or email me on cfmstpeterschurch@gmail.com.
We had a wonderful Pet Blessing Service at the end of January!
There were 14 dogs, 2 cats, a guinea-pig and a few more beside (and some cuddly toys) as well as our friends the two Shetland ponies.
There are some more pictures of the service on our Facebook page (click on this link)
On Palm Sunday the ponies were back again! We also enjoyed Mothering Sunday when the young folk, as tradition is, made little posies for their Mums and others!
Every month we have our SWITCH service and there is always something for young people at our main services. Come and try them!
You can contact our "CFM", Claire, on email: 💻 cfmstpeterschurch@gmail.com or Telephone ☎️ 01676 533936