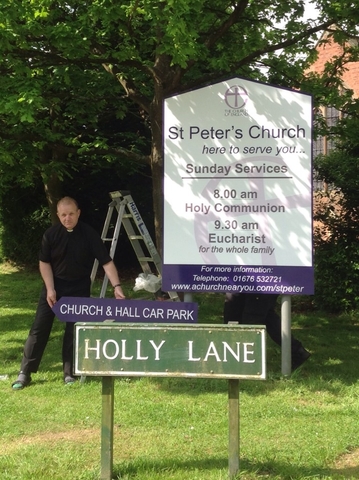 From St Peter's House
Dear friends
Advent runs all through December and is 'the final countdown' to Christmas day when we celebrate the fact that God is With Us. It's a really special time for the church. The words Advent simply means 'coming' – it's the season when Christians remember that God came to earth to be born as the Christ child, Jesus and that he will come again at the end of time to heal all the world's hurts. Advent remembers this amazing promise, so it's a time of hope, of getting ready, and expectation.
Waiting is hard, but Christmas is worth waiting for – it's a special time, and at its heart is a gift of love from God to the world. We mark this occasion in various ways, in church and in our homes. Here's what you might see in church during Advent:-
• Fewer decorations, and maybe be greenery instead of flowers. This allows us to recognise that the Christian life isn't all about celebration. It's about hope and faith during times of sadness and challenge, too. There have been many times in history when God's people have longed for God to come and save them, and there are times in our own life when we pray that God would come and help us, too. Those times can feel like a long, dark night. We long for the greenery to turn to flowers, just as we long for our sadness and our hope to turn to joy.
• An Advent wreath with candles on it. One candle is lit each week (usually at the start of the service) – often with a special song or prayer. Children may be asked to light the candles with a long taper.
Advent is a really important time to pray for peace and love to fill the world, so you may hear more of these kinds of prayers in church.
At home, many people have an Advent Calendar. Some tell the Christmas story, and some even have 'Fairtrade' chocolate as a reward for following the story each day! Other people make their own, and tell the children a bit of the real story of Christmas, and how God came to live with a human family and with us all. Or you might use an Advent Candle in the same way – burning a little bit each day and remembering the steps of the Christmas story. These are all ways of helping to spread, and share the real story of Christmas.
Another idea, if you believe that simple acts of kindness and creativity can make the world a better place, is to get hold of a Love Life Live Advent booklet (www.liveadvent.net). These are packed with thoughtful and practical actions that you can do together as a family to help you prepare to celebrate the birth of Jesus at Christmas and to make your corner of the world a better place.
The Church of England is also running a series of advertisements and resources including 'Your Christmas Journey', a series of short reflections introduced by Archbishop Justin Welby. The reflections have been written for people who are new to faith, and to help us all grow in our love of God. People can receive the messages as texts by texting SOUL FOOD to 888902, or get them as emails or on social media like Facebook & Twitter. There will also be TV and printed advertisements – why not look out for these, and maybe share them with a friend who might be interested in our faith?
Every Blessing
Fr. Peter