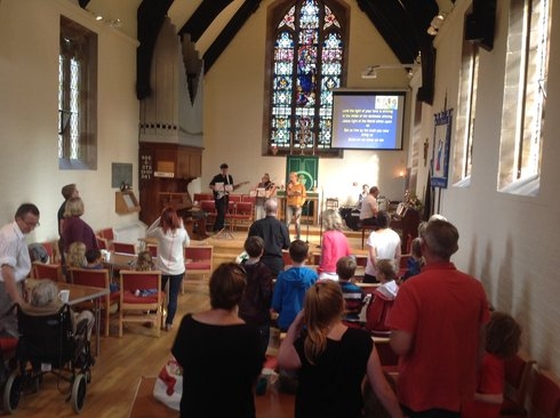 A new way of looking at the Gospel Stories!
At our 'end-of-term' SWITCH service, we gave thanks for all those whose Christening had been celebrated at our church this year - and we learned about the Baptism of Jesus. This video shows how the St Peter's Puppets brought that story to life! (If the video does not show below, click on this link)
Earlier this year
Friends at St Peter visited the Shrine of Walsingham and had a good time. There is a longer article in the recent Magazine (available in church) but you can also see a photo and their description, see our Facebook page
Celebrating the Easter Celebration, and especially our young people's re-enactment of the appearance of the risen Jesus to his disciples when they went fishing - the "Barbecue on the beach" and the 'miraculous draft of fishes' - click here to see the show
We shall post News stories about what we have done here, especially if they can be illustrated with interesting photos. You will also find the newsletter which gets distributed at the Sunday services, uploaded to the website for those who cannot get to church to collect their own copy. Click on the News tab below. You can also find or be sent the latest News by looking at, or even Liking, our Facebook page on this link or the Twitter feed which you can find here!
We must just show a recent visitor - Bishop Anne, who came to Confirm two adult members of our congregation. She gave us a great sermon and we enjoyed welcoming her to our coffee and cake after the service, where she made a lot of friends!
Can we just highlight also a new initiative by Birmingham Diocese: #LoveYourNeighbour
http://us3.campaign-archive2.com/?u=4d3bdc48a86214d2d6d15ba64&id=b6f669a1e5&e=e550b79f9b
Meanwhile, here in the village we do have a lot of fun while hopefully also doing some good:
We did enjoy meeting people at the @BCFest Balsall Common Festival last September - and we look forward to the next #BalsallFest!
On St George's Day, we marked both that and the 400th anniversary of Shakespeare's Death (our local boy made good) - with food, singing, and dance (and flag-waving)
Some people celebrated the Queen's Birthday (and Mothers' Union 140th anniversary) with cake and fancy dress -
(apologies for the poor quality images)


We have been busy taking the message out into the community as well as being engaged in our own activities of worship and learning. We hope that the more of us there are the more we shall learn from and with each other.
For example, we took Palm Sunday our into the village, with a procession led by two Shetland ponies (no donkies to be found!) ... because the Master has need of them ...
Palms were waved and palm crosses given to all we met. We had lots of waves from passing cars and a group of motorbikers, and we hope that this was a good way to get the Gospel message across.
Maybe some even followed us (and Jesus) into the dramatic reading of the Passion, which seemed very real after the chaos and joy of the procession.
On Good Friday we took the message into the heart of the village with our Walk of Witness, following the cross from the church to the schools
Then we moved to the heart of the village so the shoppers could hear the readings and the songs of the passion tide narrative
and then we walked down Station Road to end at the Methodist church - a sign of our unity of faith.
Earlier in the year, our Mothering Sunday service attracted lots of young families, and also quite a lot of Grans and older members of the church who all came together to enjoy a cup of coffee and a Danish pastry, followed by Cafe Communion style Eucharist, and while the younger ones made posies for the ladies, the adults had a good discussion on a bible text and thought what we could do to bring the generations together. Real coffee, real church, real worship, and real community! Pictures are visible on www.facebook.com/Spcbalsall
In February last year, St Peter's sent a delegation to share solidarity with the representatives of all faiths and Christian denominations in opposition to the March by right wingers from Pegida, visiting our borough of Solihull. We shared refreshments, stories and friendship at the Central Mosque in Birmingham. More information on the Twitter feeds of @ItsOurBrum and @HopeNotHate ...
Our Pet Blessing service was also fun - with a lot of young families, pets and cuddly toys as well...
All in all, we do try to make our worship and our experience of living as Christians a joyful experience. And we welcome "joiners"!