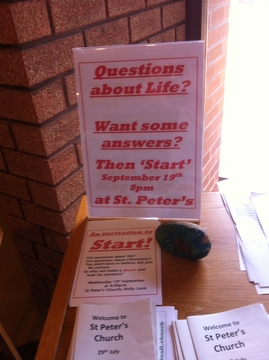 Start Course
3 Oct 2018 8:00PM — 31 Oct 2018 9:00PM
Got questions about Life, Christianity, the Universe???
You don't have to believe - just be curious! Why not "Make a Start"?
An informal series of fortnightly discussion sessions with Coffee, Cake, DVD clips and hopefully some fun as well as serious debate and answering of questions - all welcome and its FREE! The next opportunity to join this group will be on Wednesday, in the Baptistry (lounge area) at the back of St Peter's Church on Holly Lane/ Balsall Street East. We shall start at 8.00pm on Wednesday. If you are interested, and this does not suit you, we might run another one! If we need to change the time or day when we run a course, to suit people, we shall do so. Contact Moira ☎️01676532389 or Peter (01676532721) for more information.
Back to events